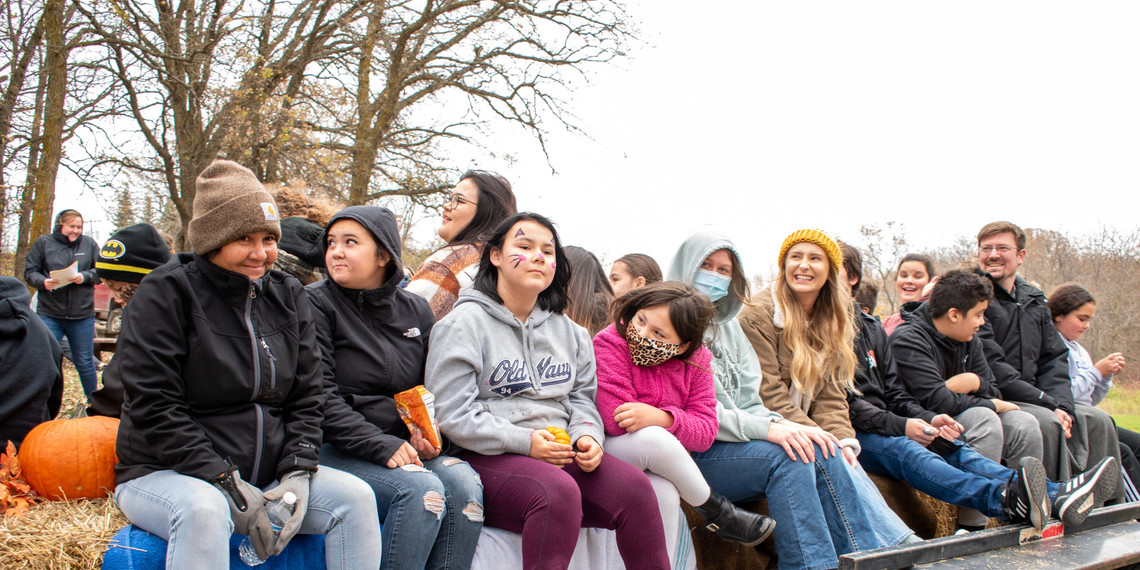 All of us have been challenged with finding safe ways to build community and continue to nurture our children during the ongoing pandemic. St. Ann's Indian Mission, Belcourt, ND, created an outdoor Fall Family Festival and hosted an All Saints Day Trunk-or-Treat which allowed them to do just that.
The day of the Fall Family Festival started out dreary, windy, and cold, with low expectations for a good turnout. However, families from Turtle Mountain reservation are accustomed to the unpredictable North Dakota weather and showed up in spite of the chill. They gathered for the 10:00am Sunday Mass and then followed the path toward the bonfire pit where a warm plume of smoke enticed the adults to gather. The children ran for the hot cider and the pumpkin patch where each one quickly selected the "perfect" pumpkin.
Children spent the rest of the afternoon painting pumpkins, going on hay-rides circling through St. Ann's beautiful property, trying out their archery skills, and roasting marshmallows over the bonfire. 
It was a great opportunity for the parents to spend a day outdoors with their children.  When asked what their favorite part of the day was, many said the hay-ride. For several young people, it was their first time on a hay-filled wagon and they enjoyed the experience immensely.
The event was a true community affair. Prior to its start, a local farmer sold several bales of hay to the church. When he realized the nature of the event, he promptly drove up to St. Ann's and refunded the money! Additionally, students from the University of Mary, Bismarck, ND, drove up to lend a hand with the event, and a number of St. Ann's Church members provided food to supply everyone with treats!
A few weeks later, St. Ann's School celebrated All Saints Day with a Trunk or Treat event. The teachers, volunteers, and Fr. Dave Brokke, SOLT, dressed up as various saints and shared candy with the children. As the children traveled to each car, the "saints" shared a little about their lives.
Included in the line-up of saints present to greet the children were: Blessed Pier Giorgio with a hand-painted mountain to depict his love of mountain climbing, St. Bernadette carting around a large statue of Our Lady of Lourdes, St. Francis accompanied by a live cat, Edith Stein, Mother Teresa of Kolkata, Blessed Stanley Rother, and others. The children loved meeting so many saints and enjoyed showing off their own costumes. It was a fun, safe way to celebrate All Saints Day and brought joy to all the children.
Submitted by Michelle
November 23, 2021 - 12:00pm