Who Is a SOLT Missionary Volunteer?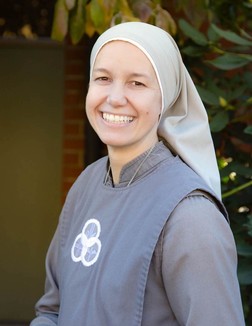 Sr. Mary Elizabeth Albers, SOLT
I'll never forget the experience of flying from Kansas City to Belize on my way to serve as a missionary volunteer.  I had just graduated from university and decided pretty late in the game that I wanted to respond to the quiet but persistent invitation to give a year of my life to serve the Lord in a completely wholehearted way.  Having left my family and friends and everything that was consistent and known in my life, I was searching for some kind of consolation or direction.  About an hour into the flight, I opened my bible, and my eyes fell on these words from Sirach 34:10-12: "One who is never put to the proof knows little, whereas with travel one adds to his resourcefulness. I have seen much in my travels, and learned more than I could ever say." In those words, written thousands of years before, I recognized the Lord speaking to me, and to every person who "leaves everything" to follow Him.  I wrote that scripture on the first page of my new journal, and two years later on my return flight from Belize at the end of my time as a missionary volunteer, I summed everything up on the last page with these words:  "I feel like my whole life started in Belize."
What is it like to serve as a missionary volunteer?  
The simplest way to put it is that it is a transformative experience.  Leaving one's own home for a time, discovering a unique and different culture, living in community with others who are also seeking to make a radical gift of their lives, and the stretching and challenges of a simpler life. These elements open horizons for encountering Christ through an authentic living of the Gospel. A certain growth, exclusive to missionary life, witnesses to the truth that "man can only find himself in the sincere gift of self." (n. 24, Gaudium et Spes) 
Since its foundation in 1958, SOLT has involved lay missionaries in her ministry, the presence of the laity being integral to the mission of SOLT. Though the type of ministry varies depending on the location of the mission, the experience of being a missionary volunteer with SOLT will always involve opportunities for a rich spiritual encounter with Christ through the sacraments, adoration, praying the Liturgy of the Hours with the priests, brothers and sisters, and the possibility of regular spiritual direction. Missionary volunteers also have occasion to grow and to build life-long friendships through living in community, and by pouring themselves out in life-giving service wherever they are needed.
I've often been told that "the Lord will not be outdone in generosity." Through my own experience serving as a missionary volunteer, and by accompanying others on that journey, I've seen firsthand the truth of that statement.  May you experience the "hundred-fold" promised by Jesus to those who follow Him unreservedly, and may every challenge be met with the grace of perseverance!