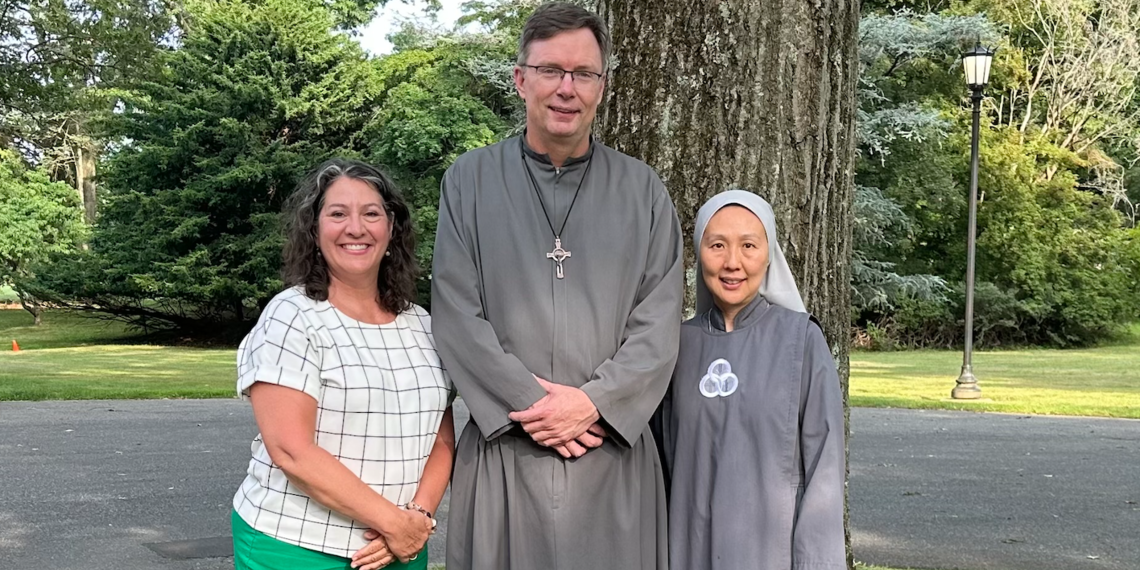 The Society of Our Lady of the Most Holy Trinity (SOLT) convoked their eighth Ordinary General Chapter this past July at the Retreat and Conference Center at the Seminary of the Immaculate Conception in Huntington, New York.  Approximately 75 delegates from the United States, Mexico, Belize, the Philippines, Thailand and Papua New Guinea attended the General Chapter.  The purpose of the General Chapter, held every five years, was to discern the will of the Holy Spirit for the community in the present time, to safeguard the living of the charism and patrimony of the SOLT community, and to elect servant leaders for each of the three branches of SOLT - priests/brothers, sisters, and lay.  Each branch of SOLT held their own individual vocational meetings prior to gathering together in plenary sessions to discuss the SOLT patrimony and the living of ecclesial family team life at SOLT missions. 
The SOLT community was particularly blessed at the Chapter by the presence of Fr. Phillip Brown, PSS, Religious Assistant to the SOLT community, Bishop Jose Rojas from the Diocese of Libmanan, Philippines, and Bishop William Michael Mulvey, Ordinary over the SOLT community.  Bishop Mulvey addressed the SOLT community and spoke of the importance of fidelity to the charism of SOLT, fidelity to the Holy Spirit and Church in living the charism and discerning how the Holy Spirit is inviting us to respond to the cries and needs of humanity today.  Following his address, Bishop Mulvey presided over the elections for the SOLT servant leaders.  Fr. Peter Marsalek was elected as the General Priest Servant, Sr. Mary Aloysius of Jesus Kim was elected as General Sister Servant, and Rosalie Buergler was elected as the General Lay Servant.
For all participants, the SOLT General Chapter was truly a blessed and prayerful time of communion with God and one another.  The next SOLT General Chapter is scheduled for the summer of 2028.
Additional photos may be found at https://solt.net/news/events/8th-general-chapter-assembly-2023
August 24, 2023 - 10:36am