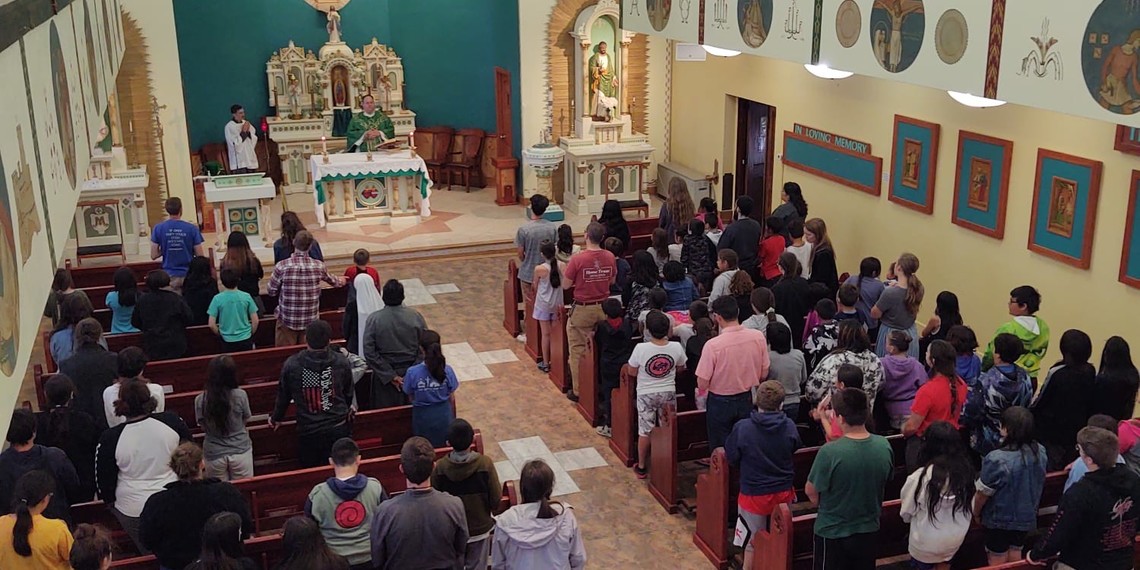 138th St. Ann's Day
The weather was breezy and the skies were beautiful for our St. Ann's Day procession and celebration. This year's preacher, Fr. Scott Brossart, SOLT, led us through a wonderful series of teachings in preparation for the conclusion of the Novena.
One particularly poignant teaching reminded listeners to pause before prayer and envision yourself in a space of relationship to God. Using an image to illustrate this idea, Fr. Scott suggested that instead of picturing God sitting in the bleachers of our lives, looking down on things from above, to picture ourselves sitting next to Him in the bleachers having a conversation, discussing the ordinary things of life. He further recommended that we use this image or a similar conceptualization to remind ourselves of how involved God wishes to be in our lives, something we often forget. We can attempt to pray but forget that prayer is meant to be a conversation between ourselves and the Lord, not a monologue where we talk and God listens. How we see God can impact our prayer and help or hinder us from hearing His voice and recognizing His personal concern for us at a given moment.
Fr. Brossart's homily in the outdoor Grotto on St. Ann's Day was a further, beautiful invitation to enter into relationship with God. He encouraged the attendees to ask God, with faith, for those things we really need and to ask Him to help us grow into better versions of ourselves. When we ask with faith, and persevere if we don't see an answer immediately, God shows up. Know that whatever your prayer is right now, you, our donors, and your intentions are remembered on regular basis here at the Mission and were held up in a special way during the Novena.
One of the joys of our St. Ann's Day was the sense of community surrounding us. Our campus was alive with activity
not seen since early 2020. The entire school cafeteria was full of people talking and eating together, others played Bingo in the gym, watched as children enjoyed carnival games on the lawn behind the church, or bustled around serving those in attendance. As things have slowly opened up here on the Reservation since the spring, it has been such a gift to begin to gather and share in each other's lives.
We're so grateful to the families who donated time, food, games, and their service to make this day a success. A special thanks goes out to the families, volunteers, local cooks, and fishermen who donated their time, food, and local catch, to feed people each night of the Novena and on St. Ann's Day. Not to mention our organizers, Bingo workers, kids carnival team, and everyone else who helped make the day a success!
October 21, 2022 - 10:12am