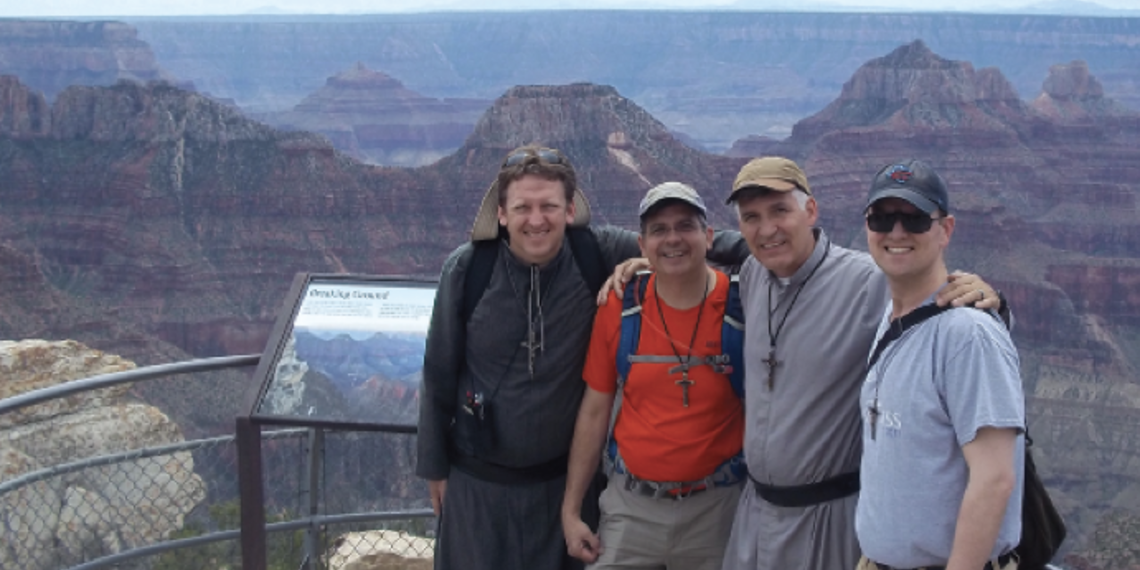 Cacti, mountains, sunshine, canyons, basketball, cabinetry, and a musical instrument museum—what do these have in common?  The SOLT Phoenix mission, of course!  This summer, God blessed me in the desert by allowing me to serve at Most Holy Trinity Parish in Phoenix, and what a summer it was!  I got to do a little bit of everything: train altar servers, help coordinate and run the summer Bible camp, choose music for Sunday liturgies, and help refinish the convent kitchen.  Even with all this enriching and wonderful work for the Kingdom, additional blessings flowed out through fraternal time with the other SOLT members at the parish.  We took a trip to the Grand Canyon, spent some evenings playing basketball, and checked out Phoenix's Musical Instrument Museum.  God is truly good!
One of my most memorable and meaningful experiences throughout the summer was with a small parish group called the Faith Builders.  They gather twice a month at a group member's home where they share a meal and study the Bible and the teachings of the Church.  In attending these meetings, I got to hear so many beautiful stories: some of blessing, some of struggle, some of happiness, some of suffering.  I listened and participated in their discussions.  One time, I even brought my violin and ended up spontaneously sharing my vocation story with them.  In the days following each gathering, I prayed about my experiences.  
In my prayer, God helped me recognize something profound.  He placed on my heart the knowledge that my presence with the Faith Builders was incredibly precious to him, just as much for my sake as for theirs.  The Lord helped me realize how much he loves being with his people and walking with them in all the bliss and turmoil of life.  Not only that, as a brother-seminarian, he had sent me to them in order to represent him in some capacity.  I was humbled; who am I to represent God?  Yet, as a future priest (God-willing) my role will be just that, to be the Good Shepherd's presence to his beloved flock.  In every moment during my busy summer in Phoenix, God's hand was there, guiding me, shaping me, forming me into the man he desires me to be.  But he did so most especially with his beloved Faith Builders.    
Br. David Snow, SOLT
November 22, 2019 - 4:14pm