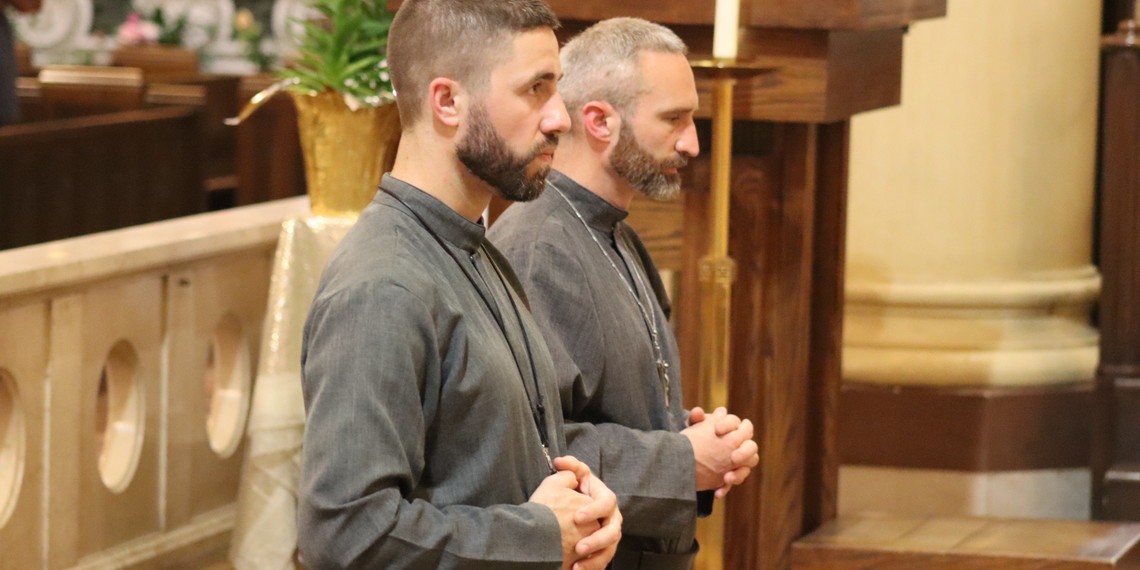 Archbishop Allen Vigneron stretchedout his hands over me and Deacon Joseph Spears as we knelt down at the end of the Mass. We had just made our perpetual promises as members of the Society and he was giving us a final blessing as we were about to go forth. Here is a part of the prayer of the Church that he offered for us:
"May God grant you to hasten in the joy of Christ along the narrow way you have chosen, rejoicing to bear the burdens of your brothers and sisters."
It struck me as a reference to Our Lady's visit to St. Elizabeth. After she had just received the gift of the Savior at the Annunciation she "arose and went with haste" to share that gift with her cousin and attend to her needs (Lk 1:39). Perhaps she went with haste because, more then anyone else, she had experienced in her life how sweet it is for a soul to possess God, and how life-giving it is to share Him with others. It would have been painful for her then to have spent even a moment's hesitation in not springing forward in her love of God and neighbor, in not progressing along that narrow way of perfection and charity.
As Christians we are all called to walk along this same path of perfection to some degree and it is now my calling in a particular way as a professed permanent brother. The promises of poverty, chastity, and obedience that I had just made can now be a tremendous gift towards this end, efficacious as they are to help speed a religious along his journey by uniting him to the Lord in a more intimate and unhindered way, capable of leaving him only anxious about the things of the Lord and how to please him (cf. 1 Cor. 7:32).
Yet the road to Judah for Mary was difficult and rough, traveling under a hot sun and along dusty roads. Should we then expect anything less for ourselves? Times of dryness, testing, and weariness most certainly will be a part of the journey because there is no growth without these, and there are no more authentic signs of love that we can offer. But even with the difficulties, it is impossible for me to imagine Our Lady without a smile on her face as she made her way along, seemingly oblivious to all except the treasure of salvation she possessed inside of her and which she so ardently wished to share with her cousin. 
I suppose then that I am writing these thoughts more as a prayer then anything else, hanging my heart on the blessing offered by the Archbishop and the kindness of Our Lady who has gone before me on her own journey. They both will be a source of confidence for me as I move forward from my time of formation, trusting that everything will be provided for me, to be able to run with haste like Mary all the days of my life, to persevere along the narrow way that I have chosen, and to rejoice as she did in bearing the burdens of my brothers and sisters. Every journey has a first step. Now let's get busy with the second. 
Br. Adam Schmitzer is originally from Athens, Ohio. He has been serving at Most Holy Redeemer Parish in Detroit for the past three years and professed his perpetual promises on April 14, 2023.