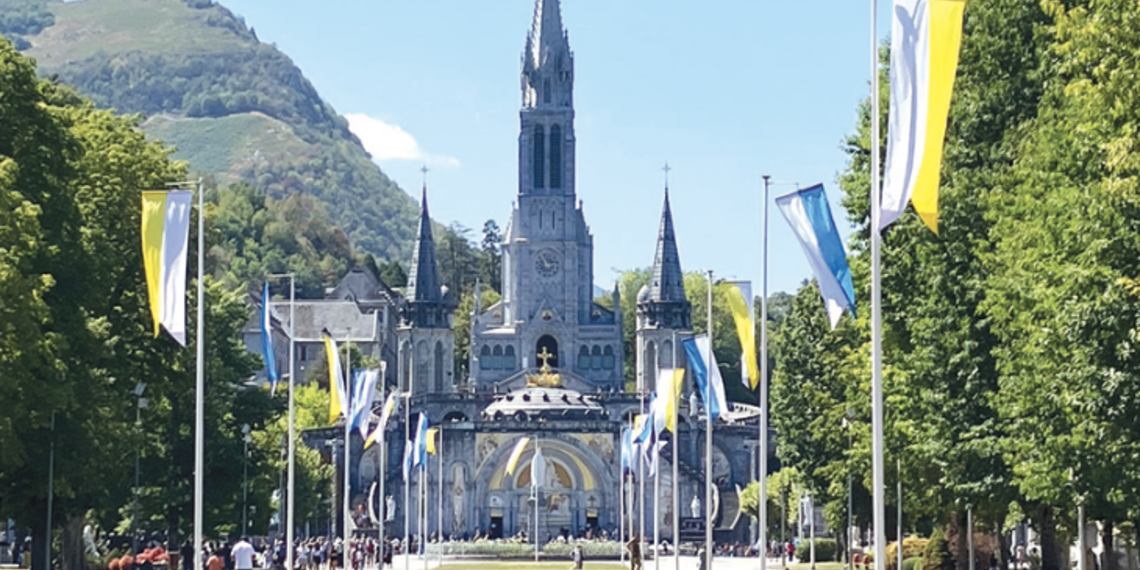 Nestled at the base of the Pyrenees Mountains, right alongside a softly flowing river, and surrounded by the antiquity of a little French town, there is no question that Our Lady knows how to pick just the right spot for a Shrine!  No wonder millions of people go there every year to enjoy a visit and, more especially, to spend a little time with the Mother of God, whose own visit to St. Bernadette Soubirous 164 years ago is still kept alive by a statue tucked into the niche of the grotto rock where she appeared.  What a blessing it was this summer to have joined that crowd on my own pilgrimage to Lourdes!
Lots could be said, but one thing in particular that struck me throughout the week was that St. Bernadette was last—last in education, last in health, last in money and opportunity.  In the eyes of the world, just plain last.  But not in the eyes of heaven.  Our Lady saw her heart, and this, in fact, put her first.  Purity, humility, simplicity, and courage were all traits that would help St. Bernadette carry out a mission and pass on a heavenly message of prayer and penance for the conversion of sinners.
She was also to tell that people should come to Lourdes in procession, a request fulfilled twice daily at the Shrine with the Eucharist and the rosary.  Both are very moving, and it was in these processions that I saw others who were 'last' and who were also being made first.  Rows and rows of sick persons, disabled persons, aged persons, in wheelchairs or on stretchers, were being pushed or carried by hundreds of volunteers, not at the back, trailing behind the other thousands of pilgrims, but right up in front, immediately behind the Blessed Sacrament or the statue of Our Lady.  These are the St. Bernadettes of today, living out the message of Lourdes in a heroic and quiet way.  They bore witness to me to the value of offering up one's daily crosses and to the dignity of the human person that goes beyond what the world often sees and values.  As they passed in front of me and I started to follow, I found it an honor and consolation to be walking behind them, a moment to 'tip my hat' in respect and adjust my vision to be more in accord with above.
November 11, 2022 - 10:00am