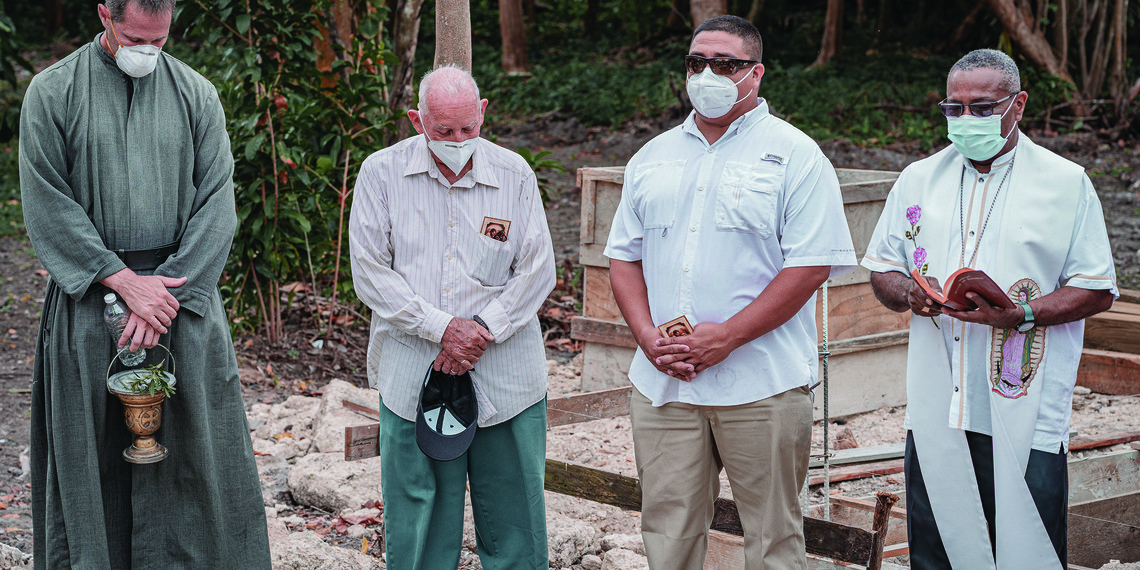 "When you're assigned as a pastor, you fall in love with your people and you want to bring everyone to Jesus." - Fr. Scott Giuliani, SOLT
The SOLT Mission in San Pedro, Belize, which was recently featured by Guadalupe Media in Belize City, is building what hopes to be place of refuge and healing for the island community of San Pedro.
The story begins with the donation of six undeveloped acres on the small island of San Pedro by the local Escalante family. With the full support of the San Pedro City Council and in collaboration with the greater island community, the San Pedro Catholic Church, with Fr. Scott Giuliani, SOLT as the pastor, has begun transforming the plot of land into a place of hope and healing.
Almost immediately, people were attracted to the land now called "Little Nazareth," especially those struggling with addiction. Little Nazareth is a humble project, being developed by the creativity and labor of the community. With an initial small pilgrimage structure, Fr. Scott brought prayer to the plot of land. Then, a local community garden with chickens was developed, and a small workshop called St. Joseph's Workshop was built. A local man named Roberto currently tends the land. Roberto himself is a recovering addict. He expresses that this place is where he finds tranquility.
During Lent of 2020, Fr. Scott called the people of San Pedro to help in the construction of a stone chapel on the land. "The foundation of the chapel began with an invitation to the men of the island," Fr. Scott says. Local men from all walks of life showed up to crack rocks and haul them from miles away to build the foundation for the chapel.
The community plans to start the development of a new building called St. Francis Recovery Center. Saul Nunez, a local Belizean is grateful to be involved in the project. Saul, who was positively affected by attending a rehab center two decades ago, said, "I went for my family, but I stayed for myself." Saul is grateful to work with the community to help San Pedro Catholic Church transform the land into a place where he hopes others can find serenity. In an interview, he tells Guadalupe Media, "I think it is a wonderful thing that [Fr. Scott] invited me to do this project."
Fr. Scott shared that the vision of Little Nazareth is to have a land oriented toward holiness where people can pray, recover and heal. "The fullness of the Catholic life," he says "flows from the altar, goes into our homes, our work places, our relationships, our marriages, the sorrows of life and the joys of life. To have a whole land that's ordered toward holiness, not just what happens within the four walls [of the church], but in the farming, the labor, the volunteers… it gives people an opportunity to show their goodness in different ways. Being a disciple is not limited to praying novenas in the Catholic Church. The whole church is the Body of Christ. It is a beautiful diversity that we have. I really believe that the beauty of this land will touch many hearts."
To watch the feature length story, produced by Guadalupe Media, visit solt.net/belizecity or connect with Guadalupe Media on Facebook (https://www.facebook.com/GuadalupeMedia/videos/248232140513820/)
Submitted by Sarah Kessler