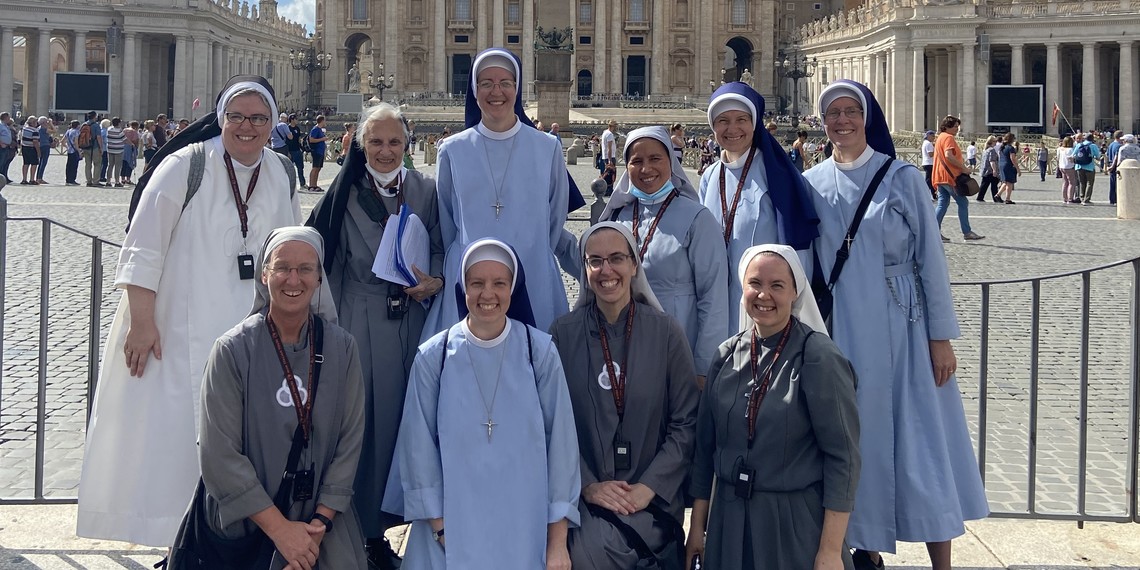 Sr. Mary Mediatrix of All Grace
Rome Sweet Home
"Father, I'm home" were the words I uttered when I entered St. Peter's Basilica on September 9th, 2022. As I walked into the Basilica on my parents' 55th wedding anniversary, a couple things struck me. On this day commemorating the union of my parents, the first formators of my faith, I was visiting the home of our Catholic faith. On this spot, our first pope, St. Peter died and our present Holy Father, his successor, lives. Many saints are buried at St. Peter's and many more are represented in the beautiful statues and mosaics throughout. The majesty of the basilica takes my breath away!
It was with deep gratitude that I traveled to Italy to participate in a two-week course sponsored by the Council of Major Superiors of Women Religious (CMSWR). The course included classes on canon law and liturgy, as well as ethics and fundraising. These classes, offered by the Pontifical University of Santa Croce, were specifically directed toward on-going formation for religious.
Following class each morning, Sr. Regina Pacis, FSGM led us to many holy sites around Rome. Her expert knowledge of history and of the city made for a wonderful experience. Every day contained noteworthy stops, but a couple that stood out included St. Bridget's Church, the Basilica of St. Paul, the Church of St. Mary Mediatrix, the Basilica of St. Bartholomew, and visiting the tombs of St. Francis, St. Clare and Bl. Carlos Acutis in Assisi. I wonder if Blessed Carlo enjoyed gelato as much as I did during those two weeks!
Visiting Rome reminded me of the power and necessity of intercessory prayer. The saints in heaven intercede for us before the throne of God and we are called to pray for one another. Every time I visited a Church, I would consider who has this saint as a patron, who shares their feast day, or what this saint is patron of. This is something we can do every day, but when you stumble upon Churches every few minutes while walking in Rome, it came to mind much more frequently!