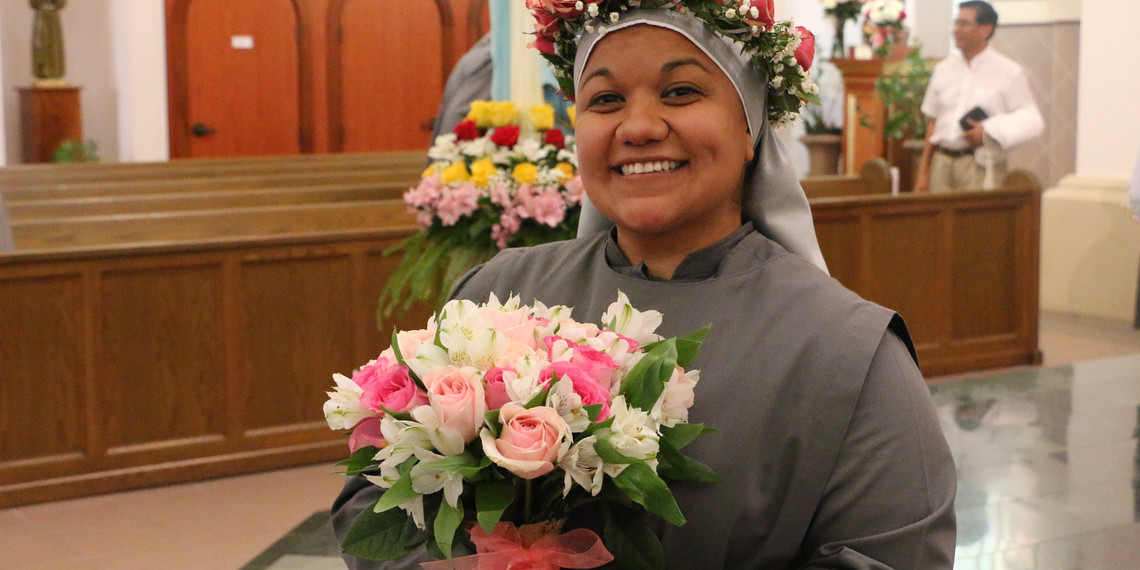 Sr. Maria Medina of Merciful Love, SOLT (Maria de los Angeles Martinez Medina) passed into eternal life on Saturday August 7, 2021 in Belize City, Belize. She was 35 years old. Sr. Maria was born on July 2, 1986 in Kingsville, Texas to Antonio Medina and Deanna (Martinez) Guerra.
She was baptized on January 4, 1987 at St. Martin's Catholic Church in Kingsville, Texas. She made her First Holy Communion on April 30, 1995 and her Confirmation on May 18th, 1998 both at St. Theresa's Catholic Church in Premont, Texas. Sr. Maria attributed her First Holy Communion, Confirmation, and strong faith to the unrelenting influence of her best friend Ariela's mother Beve. Sr. Maria's faith was nourished at St. Theresa's Catholic Church through the parish community. She went to numerous youth conferences and helped as a Life Teen Core leader. It was at a youth conference that Sr. Maria (just Maria at the time) sat next to a sister, whose name was Sr. Maria Medina, which was one of many encounters toward her own vocational discernment.
Sr. Maria received all of her educational background in Premont Texas, where she attended grade school and high school. During that time, she prided herself as being apart the Mariachi band and the tennis team. She graduated from Premont High School in 2004, and went to Coastal Bend Community College in Kingsville, where she planned study to become a licensed visiting nurse. However, the call to consecrated life was so strong that she began visiting religious communities. It was then that Sr. Maria would periodically visit Sr. Giovanni and the SOLT community in Robstown, Texas, which solidified her call to become a SOLT Sister. She entered the community in 2010, professed first vows on May 27th 2014 and professed perpetual vows on July 18th, 2019. The Sisters of the Society of Our Lady of the Most Holy Trinity are forever grateful for her life and vocation.
Her first assignment in SOLT was at St. Gertrude the Great Catholic Church in Mora, New Mexico, from 2013 to 2017. From 2017 to 2021 she was assigned to Mount Carmel Parish in Benque Viejo, Belize. Sr. Maria steadfastly gave herself in ministry and loved God's people deeply.
Sr. Maria of Merciful Love, SOLT will be remembered and missed by her loving family, the SOLT Sisters and the greater SOLT family. She is survived by her father Antonio Medina (Elena Rodriguez), mother Deanna Guerra (Amador Guerra). Sr. Maria has three siblings, Monica Muniz, Genaro Muniz III (children Frankie, Destynne, and Layala), and Isabel Guerra (children Jonathan, Melanie, Patrick and Jada). Sister is also survived by her stepmother Nelda Salinas, who was influential in her upbringing, and four stepbrothers, Fidencio, Juan, Roel and Danny Morales. In addition to her family members, Sr. Maria was a godmother to many, and spiritual mother to all those she served. Sr. Maria had a special gift of making everyone feel welcome and like family, she will be remembered for her expansive love. Sr. Maria's body was buried in Benque Viejo, Belize on August 9, 2021. A memorial Mass will be celebrated by Bishop Michael Mulvey at the Corpus Christi Cathedral on August 17th at 10am with a rosary beginning at 9:30am.
August 11, 2021 - 10:38am