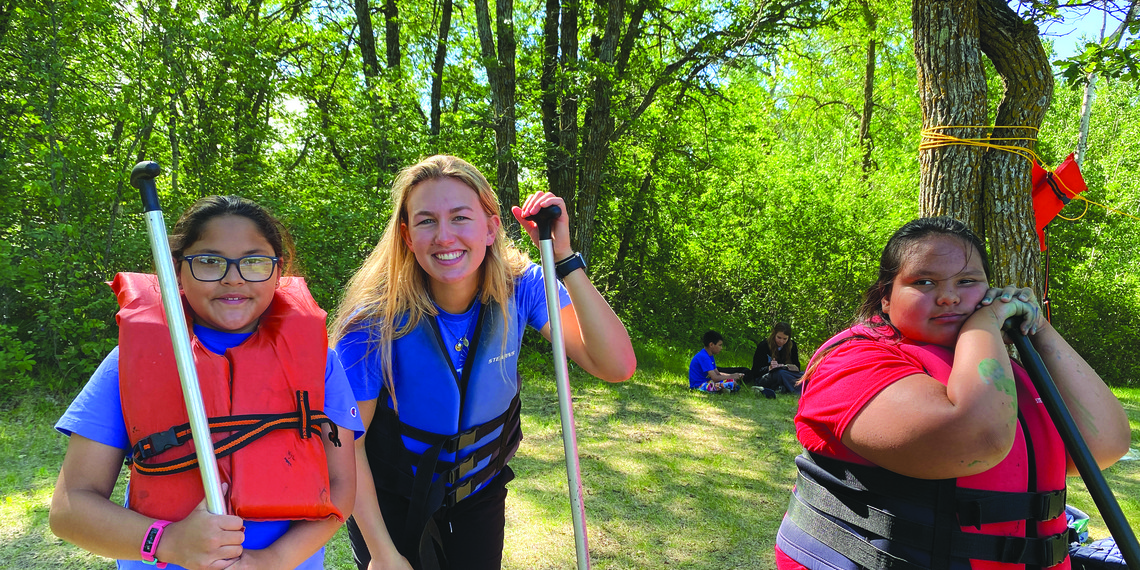 Summer Camp in the Turtle Mountains this year was an adventure! It reminded me of Matthew 13:52: "And Jesus replied, 'Then every scribe who has been instructed in the kingdom of heaven is like the head of a household who brings from his storeroom both the new and the old.'"
Our summer camp in Belcourt is an old and cherished treasure for the Turtle Mountain Band of Chippewas and Metis. For many children on the Turtle Mountain Reservation, this is the only time in the whole year in which they get to hear Catholic teaching and attend Mass. However, this year presented several challenges. The greatest challenge was the lingering Covid crisis, which meant we had to limit indoor activities and large group gatherings.  The schools in the area also had to extend classes for an extra month due to lost school days. In years past, summer camp usually started after the school  year ended, but for this year the typical camp weeks found school still in session. Another challenge was two new priests being sent to St. Ann's, with me as the new pastor, and Fr. Dave Brokke, a newly ordained priest who was put in charge of the camp. With new challenges come new opportunities and the revealing of new treasures at St. Ann's.
They say that when things get dark the light shines brighter! The first treasure on my list I believe is the brightest for our mission: Fr. Dave Brokke. Fr. Dave was personally responsible for the summer camp and used a lot of his experience with other camps to do an outstanding job. Another treasure was a condensed camp. In the past, there were six weeks of camp which were divided into four sessions with different age groups, with 10-30 kids per group.  Due to the circumstances, we had a two-week camp for the four different age groups, grades first through twelve, serving 80 kids total.  The result was four camps happening at the same time with the different age groups using different areas outside, but also coming together for Mass and other activities. Families with multiple age groups were then able to send all their kids at once.  
The third and final treasure was our volunteers! Just as Fr. Dave arrived, we restarted our SOLT missionary volunteer program in the Turtle Mountains. They are the heart of our mission. Many of the missionary volunteers, who came for a year, also stayed to help with summer camp, but we also received some amazing "camp only" volunteers. Instead of six weeks with us, it was an intense three weeks.  The old pattern had the same camp repeated four times, but with this group, it was one BIG camp time. The camp was amazing and unforgettable! I hope it is like this every year! May we all use our treasures to bless the world!  
Fr. Michael Slovak, SOLT is originally from Beaumont, Texas and was ordained in 2014.  He currently serves as the pastor and team leader of the St. Ann's Mission in Belcourt, North Dakota.